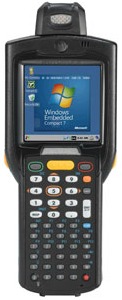 Motorola MC3200
Redefine productivity and reliability with the MC3200 mobile computer, the next generation in the class-leading MC3000 Series, now with more options to meet your needs. Choose the right operating system for your business - Android Jelly Bean or Microsoft Embedded Compact 7. Your choice of our most advanced 1D laser or 1D/2D imager scan engine allows your workers to easily capture barcodes in any condition. Three lightweight models - brick, gun and turret - bring all day comfort to every task - from cycle counting to putaway, replenishment and voice-directed picking.
To view full specifications and similar models visit Motorola Solutions website here.
Let's Talk!
If you're interested in this product, we'd love to hear from you. If you'd like to place an order, or just need more information, simply give me a call on 0274 785 218 or FILL OUT THE FORM BELOW and we'll be in touch fast.