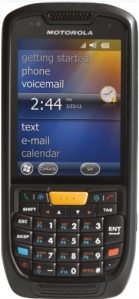 Motorola MC45
The MC45 mobile computer integrates the key features your teams need to support a wide range of field service applications in a compact, rugged device that's very competitively priced.
With all of the total cost of ownership benefits of an enterprise-class product, the MC45 EDA offers great value with no compromise performance. It is the natural extension to our market-leading field mobility WAN portfolio and is the ideal device for a broad spectrum of organisations, including security, health and homecare, facilities management, courier companies and local government.
To view full specifications and similar models visit Motorola Solutions website here.
Let's Talk!
If you're interested in this product, we'd love to hear from you. If you'd like to place an order, or just need more information, simply give me a call on 0274 785 218 or FILL OUT THE FORM BELOW and we'll be in touch fast.