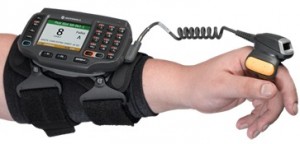 WT41N0 Wearable Terminal & RS419 Ring Scanner


Enable your workers with next generation hands-free scanning to improve operational efficiency in your warehouse, distribution center or retail store with the RS419 ring-style scanner. Paired with our wearable mobile computers, the RS419 provides hands-free freedom — no longer will workers waste time setting an item down to check a paper work order or picking up a handheld device to scan a bar code. Productivity increases — you can handle more volume without adding more staff. Workers get the valuable double-checks they need to ensure task accuracy.
Full WT41N0 Wearable Terminal specifications.
Let's Talk!
If you're interested in this product, we'd love to hear from you. If you'd like to place an order, or just need more information, simply give me a call on 0274 785 218 or FILL OUT THE FORM BELOW and we'll be in touch fast.